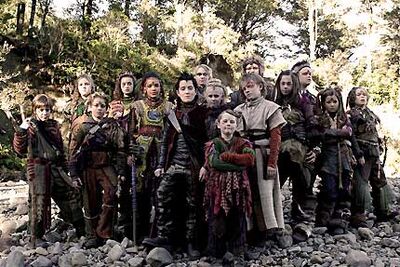 The New Tomorrow is a sequel to The Tribe. A mysterious virus has wiped out the adults, leaving children to fend for themselves. Tribes of children now roam the lands. The show is targeted at a younger audience than The Tribe, mainly targeting children between the ages 8-13. The Show have references to characters and situations form The Tribe, we can on several occasions hear the names Bray and Zoot. There are three main tribes; The Ants, The Barbs and The Privileged.  The show, however, turned out to be much less popular than the original Tribe series, and the show was cancelled after just one series.

The Privileged
Edit
Leader: Flame
Superficial, slightly decadent, pursuing perfection of their look, style and attitude. Their leader is Flame, but Harmony may be the one with the real power. They strive for total dominance.
The Barbs
Edit
Leader: Zora
Almost feral, untamed and uncultivated. At one with the nature around them. They live in simple huts, living off the land, taking only what they need. They control the rivers and forests and are determined to extend their rule.
The Ants
Edit
Leader: Faygar
The timid, frightened, superstitious survivors. Children desperate for someone to lead them, save them. They worship the past of their long-dead parents. They believe the Ancestors will save them. They live and farm in a snow capped mountainous region and just want to live in peace.
The Discarded
Edit
Volatile, dangerous, treacherous. Not really a tribe, but a band of children who have been banished to live like peasant. They're servants to The Privileged or sentenced to work in the mines or as slaves on The Privilege's plantation.
The Forbidden Zone
Edit
The Forbidden Zone is a dangerous, mysterious and uncharted no go area. There are only machines from a bygone age that roam there and evoke legend and mythology. Posing a threat to the local tribes.
The Characters
Edit
Faygar
Omar
Cass
Dan
Sal
Sky
Flame
Harmony
Shadow
Gwyn
Zora
Kwarli
Jag
Leanne
Erin