Michelle Ang
played Tai-San in The Tribe.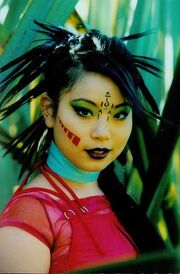 Name: Michelle Ang
Birthday: 17th October 1983
Interests: Michelle enjoys ballet, shopping and hanging out with friends.
Biography:
Michelle was 14 years old in Series 1. She is a trained ballet dancer. She has been a guest artist with the New Zealand Royal Ballet, having danced for them in Giselle, The Nutcracker Suite and Romeo and Juliet.
She was a member of the McDonald's Young Entertainers Super Troupe.
Michelle made her television drama debut in Cloud 9's previous production William Shatner's A Twist in the Tale - The Green Dress.
Michelle has also been in the Australian TV drama Neighbours.
In 2016, she was nominated for an Emmy in the Outstanding Actress in a Short Form Comedy or Drama Series category for her role in Fear the Walking Dead: Flight 462.