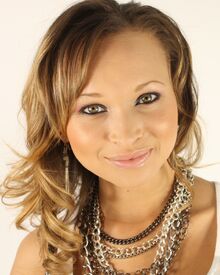 Meryl Danielle Cassie (born April 2, 1984 in George, Cape Province, South Africa) is a New Zealand actress, singer and entertainer who portrayed Ebony in series one to five of The Tribe.
She is mostly known for playing the part of Ebony in the TV show The Tribe. She is the infamously known to be "evil" in the series. She always wants everything her own way and she would do anything to get it, even murder. All Ebony wants is power and nothing else.
She did have a lot of power to start with when she was going out with Zoot the leader of the Locos but she wasn't with him that long because he died but I don't think that she was that sad because with Zoot gone Ebony became the new leader of the Locos which meant more power and she was in love with someone else anyway and she had been since before the virus.
He was Zoot's brother Bray who was a member of the Mallrats and he didn't feel the same way as Ebony he was in love with Amber the leader of the Mallrats but Ebony didn't like that and decided to use her power to try and get him to change his mind but that didn't work then all the Locos turned on her and said that she had gone soft since Bray had been around.
When thay were all up on eagle mountain and the explosion happened Ebony saw that as an opportunity to get rid of Amber for good so Ebony faked Amber's death to try and get to Bray that way but instead he found someone else but she ended up joining the Mallrats and when the Technos invaded she fell for one of them called Jay.
The leader of the Technos Ram wanted Ebony to marry him and he showed Ebony a CD with Jay and Amber kissing but she didn't know that it was fake at the time so she married Ram later she found out the truth about the CD she and Jay had ran away but it didn't last long because she thought that Jay and Amber were going out with each other behind her back but they weren't so they broke up and Ebony met someone called Slade and they went out with each other all the way to the end of the show Her mother Barbara Cassie, her sisters Megan and Monique and older brother Miquille migrated to New Zealand in 1987 because of Apartheid. She's best known for her part as Ebony in the Tribe. Her two sisters, Megan and Monique appeared in the Tribe, as Ebony's sisters. Meryl is a total fan of R&B, and a big fan of Rugby.
Meryl lives in Auckland with her partner Brendon Watt and their son, Rylon (born September 16th 2006).
Filmography
Edit
Television
Edit
| | | |
| --- | --- | --- |
| Title | Year | Role |
| What Now | 1996 | Field presenter |
| The Tribe | 1998-2003 | Ebony |
| Revelations | 2002 | Lucy James |
| Karaoke High | 2006 | Miri (singing voice) |
| Legend of the Seeker | 2009 | Bella (credited as Courtesan) |
| The Jono Project | 2010 | |
External links
Edit
Community content is available under
CC-BY-SA
unless otherwise noted.