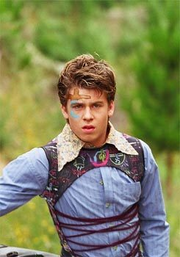 Darryl appears in series 5 of The Tribe. He wants to be a star and is used by
Java
and
Mega
as a
Zoot
impersonator, seeing as Darryl bears a striking resemblance to Zoot, and this does not go unnoticed, as
Mega
uses him as well as some holograms to scare most of the city into submission, but when Darryl gets too focused on fame and power, and is going to go on stage again,
Mega
 ends up zapping him and although he doesn't die, it was enough to convince
Ebony that
he had.
"They want me."
"No, they want Zoot."
Darryl is then found by Slade, who followed the two Technos who had taken him away, and takes care of him. Darryl eventually becomes one of the gang at Liberty. He helps Lex in running his virtual Casino in Ruby's Saloon. After Mega's downfall Darryl spends his time at the mall with the Mallrats. He is last seen on board the boat off to a new tomorrow.
He appears in the book A New World where he seems to have a crush on Salene and he joins the rest of the Mallrats at Camp Phoenix.