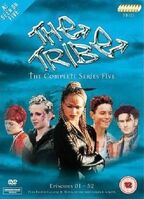 Series 1 was first released in 2003 by Sanctuary Entertainment, after that no further
DVD's were released until 2006, when Revelation, a UK distributor, released all series of The Tribe in the UK.
Each of the DVD sets comprised of seven discs, featuring all 52 episodes per series as well as bonus features.
To date, it has only been released in PAL format. There are no NTSC versions that have yet to be released which means most region 1 DVD players and/or displays can not support them. Cloud 9 has stated they are interested in releasing an NTSC version, but to date this has not happened. The disks will work in most computers that have their drive set to region 2.
There are some websites claiming to sell an NTSC box set version, but they are largely scam sites or not legitimate versions of the series.
Series boxsets
Edit
The Tribe: Series One (Sanctuary Visual Entertainment, 2003)
The Tribe: The Complete Series One (Revelation Films, 2006)
The Tribe: The Complete Series Two  (Revelation Films, 2006)
The Tribe: The Complete Series Three (Revelation Films, 2006)
The Tribe: The Complete Series Four  (Revelation Films, 2006)
The Tribe: The Complete Series Five  (Revelation Films, 2006)
The Tribe: The Complete Series One (ABC3, 2011)
The Tribe: Series One, Part One (Shout Factory, 2012)
The Tribe: Series One, Part Two (Shout Factory, 2012)
Other DVDs
Edit