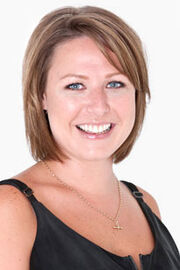 Amy Louise Morrison
was born in the 18th July 1984 in New Zealand.
Biography
Amy was 14 years old in Series 1 and has had a variety of experience in front of the camera. She has appeared in a number of television commercials and has had roles in Shortland Street and Hercules.
Her film work includes The Joker and Jack be Nimble.
Amy played the part of Jessica in Jessica's Diary, a screenplay in the Cloud 9 series William Shatner's A Twist in the Tale.
Her first major role was in series 1 of the New Zealand drama The Tribe her character Zandra was killed in the last episode of the series.
Filmography
Edit
Jack of All Trades (1 episode, 2000) as Annie
The Tribe (53 episodes, 1999) as Zandra
A Twist in the Tale (1 episode, 1999) as Jessica
Hercules: The Legendary Journeys (1 episode, 1998) as Hope
Xena: Warrior Princess (1 episode, 1998) as Fayla/Hope
Every Woman's Dream (1996) as Samantha Age 10
Hercules in the Underworld (1994) as Cold Child #1
Hercules: The Legendary Journeys – Hercules and the Circle of Fire (1994) as Cold Child #1
Jack Be Nimble (1993) as Younger Sister